Sister of the Sword
From birth, the Sisters are taught to be strong in both body and soul. None are more devoted to the survival of the Alliance.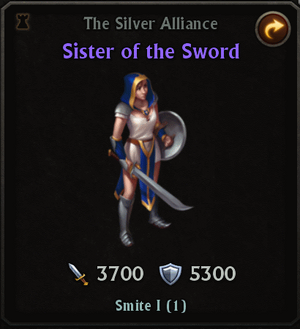 Rarity: Epic (Purple)
Alignment: Silver Alliance
Max Level: 60
Skill: Smite

Guiding the Divine's potent wrath, this Hero has a x% chance of casting a Holy spell that deals y% extra damage to one of your Rival's Undead Legion Heroes.
Offense: 3,700
Defense: 5,300
Ad blocker interference detected!
Wikia is a free-to-use site that makes money from advertising. We have a modified experience for viewers using ad blockers

Wikia is not accessible if you've made further modifications. Remove the custom ad blocker rule(s) and the page will load as expected.