Forest Sentinel
The Horde lacks the Alliance's faith and the Legion's hatred, but they have their own strength, the strenth of Will, every day fighting a battle for survival.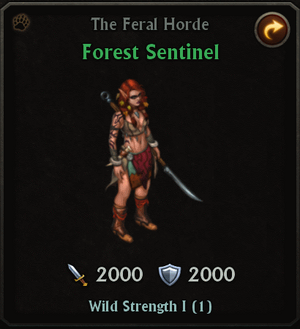 Rarity: Uncommon (Green)
Alignment: Feral Horde
Max Level: 40
Skill: Wild Strength

True strength does not come from training, but from surviving. This Hero has a x% change of casting a Nature spell that provides six of your Feral Horde Heroes with a y% defence boost and y% offensive boost.
Offense: 2,000
Defense: 2,000
Ad blocker interference detected!
Wikia is a free-to-use site that makes money from advertising. We have a modified experience for viewers using ad blockers

Wikia is not accessible if you've made further modifications. Remove the custom ad blocker rule(s) and the page will load as expected.