Fae Dragon
The fae Dragon is a mystical and elusive creature, and the rare few who have stumbled upon one wind up either mad or dead.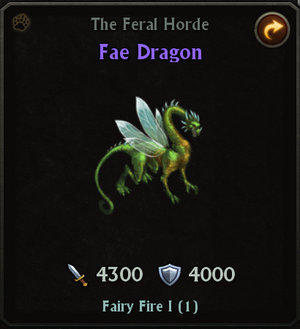 Rarity: Epic (Purple)
Alignment: Feral Horde
Max Level: 60
Skill: Fairy Fire

The fae have little trust for intruders, this Hero has a x% chance of casting a Nature spell that deals y% extra damage to three of your Rivals; Undead Legion or Silver Alliance Heroes.
Offense: 4,300
Defense: 4,000
Ad blocker interference detected!
Wikia is a free-to-use site that makes money from advertising. We have a modified experience for viewers using ad blockers

Wikia is not accessible if you've made further modifications. Remove the custom ad blocker rule(s) and the page will load as expected.